Nguyen Hoang, An Hoi Islet
Updated March 2023
No stay in Hoi An is complete without visiting Hoi An Night Market. If you find yourself drawn in by the magical aura of Hoi An Old Town's lantern-lit streets, then be prepared for an even more mesmerizing experience when you witness first-hand the enchanting scene of the night market lantern stalls.
As soon as night falls, Nguyen Hoang Night Market comes alive with colorful lights and buzzing energy that will transport you into another world.
Where is Hoi An Night Market?
Hoi An Night Market is situated on An Hoi Islet, across the river from Hoi An Old Town. It is a hard-to miss, dazzling spectacle that runs the entire length of Nguyen Hoang Street, An Hoi.
Hoi An Night Market Opening Hours
The market is open daily from 5pm until 10pm. During the peak season, night market hours may be extended to 11pm by some stalls.
How Do You Get to Hoi An Night Market?
There are several ways to get to the Night Market. Either take a taxi to An Hoi Islet or cross from the Old Town via the Lantern Bridge, which is near the Japanese Bridge.
If you come by taxi, you will be dropped off at the start of Nguyen Phuc Chu Street as cars cannot go further than this.
Running adjacent to the Thu Bon River, this walk is an ethereal experience, especially if you come at twilight when a golden hue blankets Hoi An's Ancient Town. You'll also be able to take in stunning views of countless twinkling lanterns from sampan boats illuminating the water!
Best Time to Visit Hoi An Night Market
The vendors start setting up the market with small stalls at around 4.30pm, but the market isn't in full swing until around 6.30pm with the main market chaos occurring between 7pm and 9.30pm.
If you want to avoid crowds then come earlier but to really get the full impact of this glorious, lantern-lit market, come when it is dark.
At night, as lantern stalls illuminate the night with hundreds of multi-colored beacons, the floodlit, iconic Japanese Bridge provides a stately backdrop to lantern-lit sampans' bobbing on the Thu Bon River.
You'll dodge giggling Asian tourists drifting by, resplendent in rented traditional Ao Dai and conical hats. Interspersed, are roaming street hawkers selling paper birds that fly skyward and spinning tops that career over the pavements.
Then there are the old Vietnamese fruit sellers with their shoulder poles and fruit baskets posing for photos.
Hoi An Now Tip:
If you go grabbing for your camera and snapping without a deal, beware. These ladies are seasoned photo-op hawkers, and it's not their fruit they are selling but themselves. Pay a nominal sum of 10,000 to 20,000 VND or buy some fruit; they get rather grizzly if you don't.
How Many Hoi An Night Markets Are There?
Hoi An boasts two night markets, each with its own distinct charm.
Nguyen Hoang Night Market – An Hoi
Located on An Hoi Islet, across the river from the Ancient Town, this night market – with its stunning display of colorful lanterns – is the original and most enchanting one.
Bach Dang Street Night Market – Ancient Town
The other night market, located in Bach Dang Street, only a short walk down from Hoi An's Central Market, opened in 2018. This other Hoi An night market offers much the same food outlets and souvenir stalls as the Nguyen Hoang Night Market; however, it lacks the overall energy and captivating display of dazzling lantern stalls.
But why choose? Both offer something special. So if you have the time during your stay in Hoi An – go ahead and explore both of these vibrant night bazaars!
What Can you Buy at Hoi An Night Market?
While the Night Market is full of the regular cheap trinkets such as earrings, beads, fridge magnets, chopsticks, fans and wide-eyed owl and miniature cyclo bike ornaments, they still make for good presents or knick-knack souvenirs to take back home.
Here are some of the most popular items available for purchase at the Hoi An Night Market; if you find a good price of course!
Conical Hats
Conical hats are a classic symbol of Vietnam, ubiquitous in postcards and movies. Historically, these cone shaped hats were developed by rice farmers as a way to protect against the harshness of the sun and driving rain while working in the fields. Nowadays, you can still see Vietnamese people wearing them on the farm or on their bicycles around Hoi An. There are around 50 types of conical hats with various colors, materials and sizes.
Not only are these hats typically Vietnamese, they're also lightweight and won't take up too much of your luggage space. In other words, completely embrace the culture and don one of these sombreros right on board the plane! That way you can be sure to avoid any unfortunate flattening incidents.
Lanterns
This is probably what you came to Hoi An to see. The sheer volume of bright lanterns brings a distinct whimsical quality to Hoi An and once you see them, you will want to take one back home with you.
There is a plethora of colorful lanterns that decorate the stalls and streets of An Hoi's Night Market. They are typically made up of a bamboo frame and Vietnamese silk and cost around 100,000 to 500,000 VND (4 – 22 USD).
Additionally, they are luggage friendly! Lanterns can be collapsed and folded down so you can easily pop one into your suitcase. This will be a special, decorative piece in your home for years to come.
Souvenirs
Whether it's postcards, notebooks, t-shirts, magnets, statues or small knick-knacks, souvenirs are plentiful at the night market. You can find a lot of cute trinkets to give as gifts or to take back for the memory.
Bags
At Hoi An Night Market you'll find an array of bags to satisfy any taste. From exquisite silk and leather bags to Winnie the Poo eating his honey, embroidered bags. Not feeling Winnie the Poo or bags with rabbits hanging off their sides? Not to worry, you can go a lot more upmarket and head for the stalls selling fake Christian Dior bags. Yep, at Hoi An Night Market there's a cheap bag for everyone.
But if you're looking for a unique Hoi An experience, you should check out the beautiful rattan bags on offer.
These gorgeous round, square, and oblong-shaped rattan bags are made from natural materials such as bamboo and rattan fibers that are woven together to create a sturdy but lightweight bag. These pieces come in all shapes and sizes, so whether you need an everyday carryall or something more suitable for a night out, the Night Market has exactly what you're looking for. And don't worry about breaking the bank—these handmade beauties can be had for less than $20 USD in most cases!
Tourist Water Color Paintings – Cheap to Buy and Easy to Carry
Tourist watercolor paintings are one of Hoi An Night Market's most sought after souvenirs. They often depict quintessential Vietnamese life, such as farmers and villagers in their daily routines, or beautiful landscapes and architecture of Hoi An itself.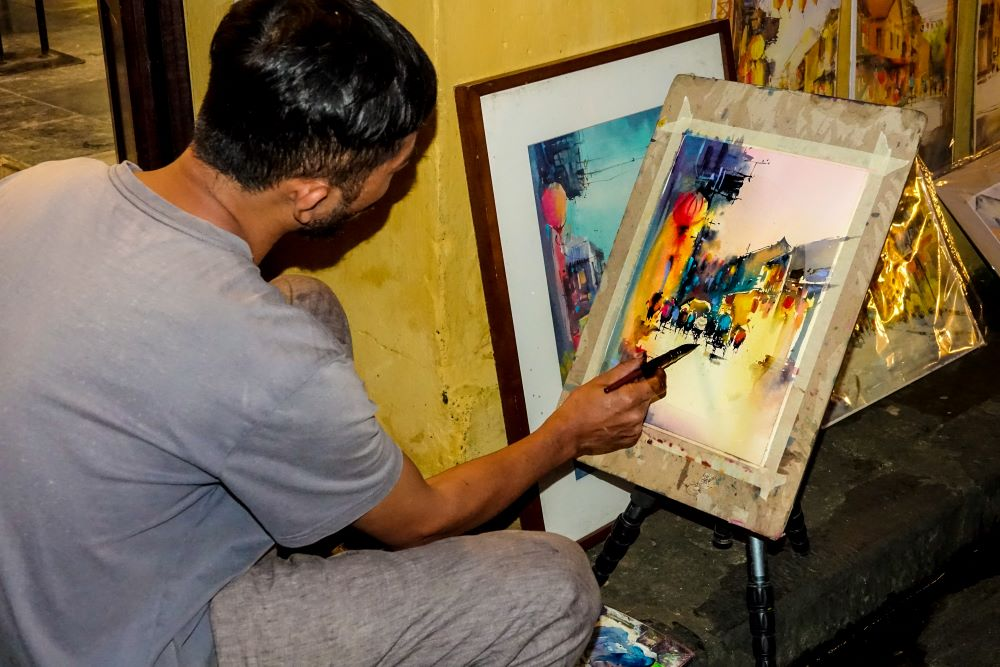 Typically, Hoi An night market watercolor paintings are quite small in size and light-weight, making them easy to transport back home as a souvenir. Prices range from just 80,000 – 150,000 VND (3 – 7 USD) depending on the size and quality of the painting.
No matter what kind of Hoi An night market souvenir you're looking for, don't forget to haggle! The prices may be cheap but bargaining can help drive down costs even more so you can walk away with bargains galore!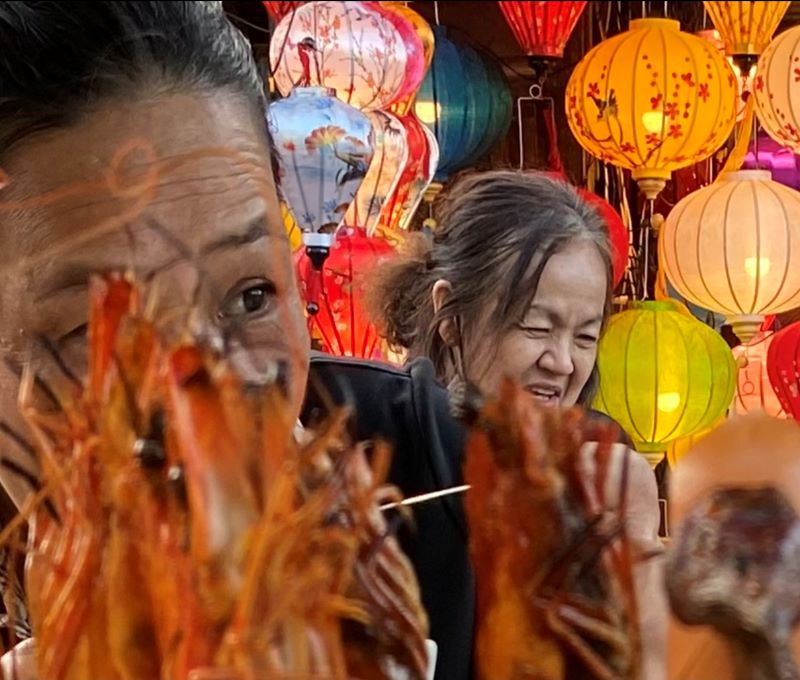 Night Market Food Stalls
Hoi An Night Market is a great place to get delicious and unique food from all over Vietnam.
As soon as nightfall sets in, the streets come alive with color and sound. Vendors set up their food stalls, traditional red chairs and tables pop up on the sidewalk, and the smells and aromas of food being cooked fill the night air (and your mouth with water).
The Night Market food stalls offer something for everyone, from well-known Vietnamese dishes to fusion creations.
Pop up stalls line the streets selling skewered barbequed frogs, humongous prawns and squid along with traditional street food like Hoi An's Cao Lau and Vietnam's famous, Banh Mi, put in the spotlight by Anthony Bourdain.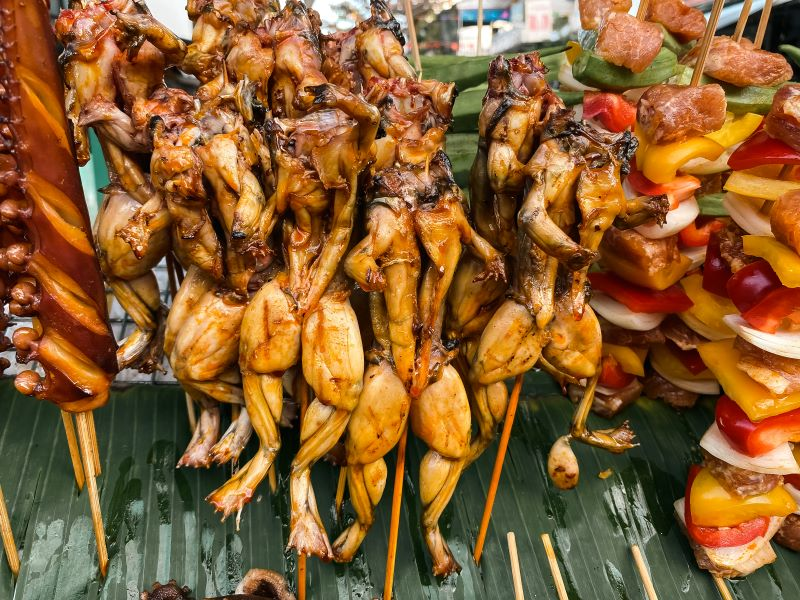 And if you're Vegetarian, no need not worry about being left out at Hoi An night market. There is an abundance of vegetarian-friendly options, from fresh spring rolls and summer rolls packed with vegetables, to delicious vegan pho, banh mi sandwiches made with tofu or seitan instead of pork, and even deliciously golden, freshly barbequed corn on the cob.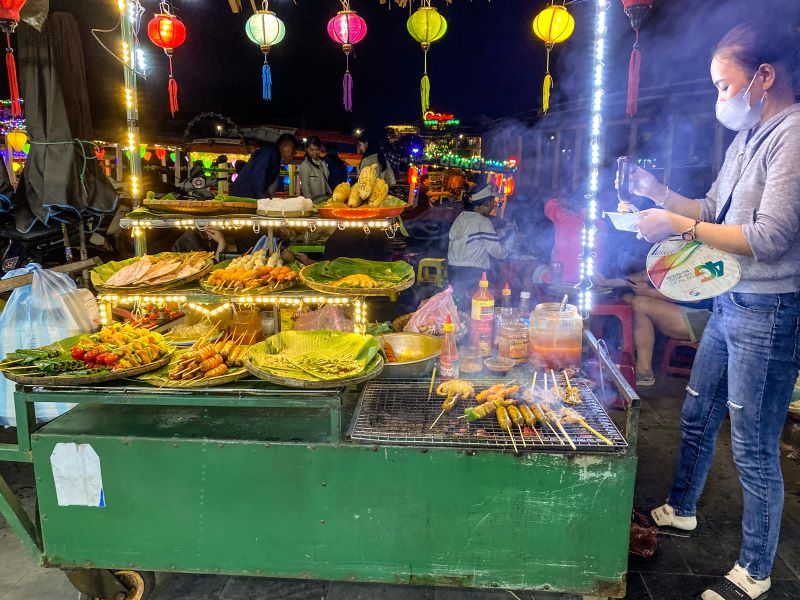 In addition to savory treats, visitors can indulge in sweet street food like chè cuốn (coconut rolls), sticky rice cakes filled with mung beans or sesame paste, chè ba màu (three coloured pudding), or – our favourite – Dragon's Breath Ice Cream!
There's no shortage of mouth-watering snacks at Hoi An night market! It is a foodie's paradise. Go with an empty stomach and extra Vietnamese dong in change.
Here are our top six dishes to indulge in at the night market.
Banh Xeo
Also known as a Vietnamese pancake, Banh Xeo is a very popular street food dish. It is a savory pancake made out of rice flour, turmeric powder, and stuffed with either pork, shrimp and bean sprouts, then pan fried. Once it is cooked, you pull a piece of the Banh Xeo and wrap a lettuce leaf around it before you dip it in a sweet and salty sauce.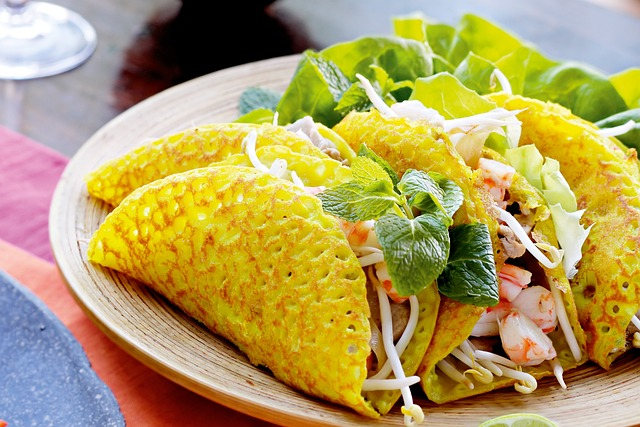 Cao Lau Noodles
This is the staple noodle dish of Hoi An and consists of thick, chewy, rice noodles, fresh greens, bean sprouts, croutons and smoky pork. The flavors and pairings in this dish are exclusively made in Hoi An. Noodle dishes are very region-specific in Vietnam, so it's best to try each one to get a sense of the area and its food.
Banh Mi
Banh Mi may be the ultimate must-try street food during your time in Vietnam. This is essentially a sandwich made with a baguette (from French tastes) and stuff with grilled meat, pate and various vegetables. These are easy, cheap and great on-the-go as you continue to do your night market shopping.
Quang Noodles
Like Cau Lau noodles, this is also a popular regional dish for Hoi An. The noodle is either yellow or white and made from rice flour. It's then mixed with shrimp, pork, vegetables and topped with spices and grilled rice paper. This is a unique dish for it's rich broth and crushed peanut toppings.
Ice Cream Rolls
Ensure you make room for dessert, as these ice cream rolls are too good to pass up! The process is fascinating to watch. You choose your ice cream flavor and toppings, then within minutes the food vendor is chopping and mixing your custom, fresh ice cream rolls. A perfect way to end an evening at the night market.
Dragon's Breath Ice-Cream
Dragon's Breath Ice Cream is an incredibly unique treat that can be found at night markets in Hoi An, Vietnam. This icy dessert is made using liquid nitrogen to instantly freeze ice cream balls as they are tipped into a steel bowl. When placed in the eater's mouth, it produces smoky vapors which comes out of the nose and mouth, giving the dessert its name.
It's a fun and delicious way to enjoy traditional Vietnamese flavors like coconut and sesame paste. Best of all, it only costs around 40,000 VND (less than $2 USD) so it won't break the bank either!
Drinks at Hoi An Night Market
No night market experience would be complete without trying some of the local beverages. During hot summer nights you can cool off with bia hoi (freshly brewed beer), coconut juice, sugar cane juice (10,000 vnd / 0.45 USD), or the 'keep-you-up-all-night', Vietnamese coffee.
And if you're a smoothie lover, your luck is in. Stalls sell a wide variety of fresh fruit smoothies from lychee to dragon fruit, mango to jackfruit, pomegranate to coconut; in fact, you mention the fruit, they've got it – and all for the paltry sum of 50,000 vnd ($2 USD approx).
Hoi An Now Tip:
If you're looking for a way to get rid of your companion, then look no further than durian smoothies. Even if you manage to power through the smell yourself, the stench on the breath from durian is so unbearable it will ensure any unwanted company won't be sticking around for long!
Attractions Around the Night Market
The Hoi An Night Market offers an incredible array of activities and experiences for visitors to enjoy. Here are our favorites:
Visit the Japanese Bridge
Across the river from the Hoi An Night Market stands the stunning, historic Japanese Bridge. Seeing this majestic architectural masterpiece aglow at night is an experience like no other: with green lights illuminating its arches and hundreds of lanterns glowing in nearby Old Town, it's easy to see why so many visitors are mesmerized by its beauty.
This unforgettable view won't soon be forgotten after leaving Hoi An; bobbing sampan boats on the surrounding water only add to this magical scene!
Boat Trip on the Hoai River
Hoi An Old Town is undeniably romantic at night, especially when seen on a boat from the river. The Old Town's lanterns and lantern-adorned boats glisten on the river's surface in a dazzling display that is truly fantastical.
Make a wish on a wish Candle
One of the most unique attractions in Hoi An at night is lighting a wish candle and setting it afloat on the Hoai River after making a wish.
The wish candles are special paper lanterns that can be seen bobbing all over the Hoai River after dark.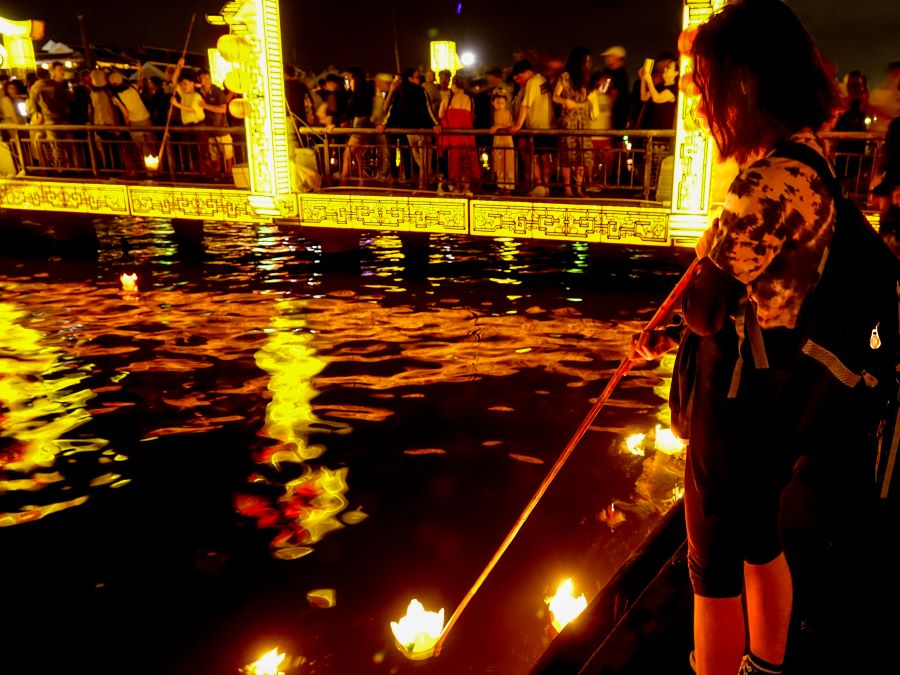 Have a cocktail or two!
Hoi An is the perfect place to have a few cocktails and take in spectacular views of the Old Town as the lanterns come on.
For the best views of both the Night Market and the Old Town, head upstairs to the balcony seating at Madame Kieu's Vietnamese Restaurant or Mango Mango Restaurant.
Hoi An Now Tip:
Cocktails in Hoi An are good, cheap, and strong. If you head to one the Night Markets after having a few, hold onto your purse. You will no doubt come home with more than a few trinkets that you don't want, have no use for, or, worse yet, don't remember buying!
Have a Foot Massage
After exploring Hoi An Night Market, what better way to end the evening than with a foot massage? Spas are ubiquitous in Hoi An. You will have no trouble coming across one.
Grab a Cyclo
A trip around Hoi An Old Town in a cyclo during the twilight hours of 5 – 6pm is a magical experience. Highly recommended.
Is Night Market Safe?
As with any tourist town, there are pickpockets to be aware of; however, Hoi An Night Market remains a safe place to explore if you take some necessary precautions. In general, Hoi An is probably one of the safest places you will ever visit.
Tips for Visiting Hoi An Night Market
1. Take your camera & Get some Spectacular Views
Enjoy spectacular views of the Night Market and Hoi An Old Town at Mango Mango or Madam Kieu's. Located on the corner of Nguyen Hoang & Nguyen Phuc Chu, these two locations offer unbeatable balcony seating to take in all that this vibrant city has to offer. It's an ideal spot for taking photos, observing people as they go about their day-to-day activity or simply listening to live music while sipping on your favorite drink!
2. Time your visit to the night market in Hoi An with its incredible Lantern Festival
The Hoi An Lantern Festival occurs on the 14th day of the lunar calendar, which is usually just before the full moon. This stunning event is marked by street lights being turned off in the Old Town, with the only illumination coming wish candles afloat in the Hoai River, making for an even more beautiful display.
3. Take cash
Hoi An is still very much a cash society. Paying by credit card is more widespread than it was but in night markets, cash is king.
4. Keep Your Purse Close
Hoi An is safe but extremely busy night markets bring out possible pickpocket opportunities.
5. Know your Dong!
500k notes in Vietnam are very similar to 20k notes, 100k is similar to 10k – separate them, so you know what you are handing over.
6. Get Yourself photographed Amongst the Lanterns
For a truly remarkable Hoi An memento, why not be captured among the lanterns? All it takes is one dollar and you can capture your experience in an unforgettable photo!
Frequently Asked Questions
Is Hoi An Night Market Every Night?
Hoi An Night Market is open every night from 5pm to 10pm and it's a great place to experience the vibrant culture of Hoi An. The Hoi An Night Market is filled with an array of stalls selling everything from delicious local food, unique souvenirs, traditional Vietnamese crafts, even services like foot massages.
Is it better to stay in Hoi An or Danang?
It's really a matter of personal preference. Hoi An has beaches, ancient architecture and rice fields along with world class restaurants, shops, tailors, spas, hotels and bars, all within a short distance from each other. Danang is a larger city known for its modernity and pulsating nightlife.
Is Hoi An Night Market worth visiting?
Absolutely! Hoi An Night Market is a sight to behold. Its breathtaking lanterns make it one of the most beautiful night markets in the world. Whether you're looking for souvenirs, food or a lot of atmosphere, it's definitely worth visiting.
Is December a good time to visit Hoi An?
December can be unpredictable in terms of weather. It can be variously hot, cold and rainy. However, if you like festivities, there is no better time to visit! With Christmas and New Year (and Tet just around the corner) the atmosphere is electric. If you're looking for really hot weather, plan a trip later in the year!
What is the best month to visit Hoi An?
Hoi An is a beautiful destination all year round. However, the best time to visit (for weather) is February to April, when temperatures are warm without being too hot and the rainy season has ended. September to November can be very wet so other times of year are preferred.
Hoi An Night Markets Map