Updated and revised January 2023
When it comes to finding things to do in Hoi An there's something for everyone. With a UNESCO World Heritage Site – the Old Town – situated in-between the countryside and coast, the region has a huge amount of attractions to enjoy.
You'll find tours on the ground and on the water, trips to historical sites and kid-friendly centers, tailoring, great shopping and much more. And for those looking to spend their time away strictly in the horizontal position, Hoi An has some of the most beautiful beaches in the whole of Vietnam – not to mention a great choice of spas.
It's well worth taking a few minutes to research things to do in Hoi An, as a little knowledge goes a very long way. Find everything you need to know for planning your perfect holiday in Hoi An below, and really make the most of your time in one of Vietnam's most beautiful cities!
When is the Best Time to Visit Hoi An?
When should you come to Hoi An, Vietnam? March and April are ideal as these months are dry but more temperate than the very hot summer months. When it comes to most things to do in Hoi An they are ideal. For divers and snorkelers, there is no diving at Cham Island during the wet season (September-January) and the best visibility can be had in the calm swell of the spring/summer months: March – July.
Festivals like Tet, the Hoi An Lantern Festival, the Mid-Autumn Festival and New Years' Eve also offer special times in Hoi An and all across Vietnam. For a complete year-round survey weatherwise see Hoi An Weather.
Hoi An Ancient Town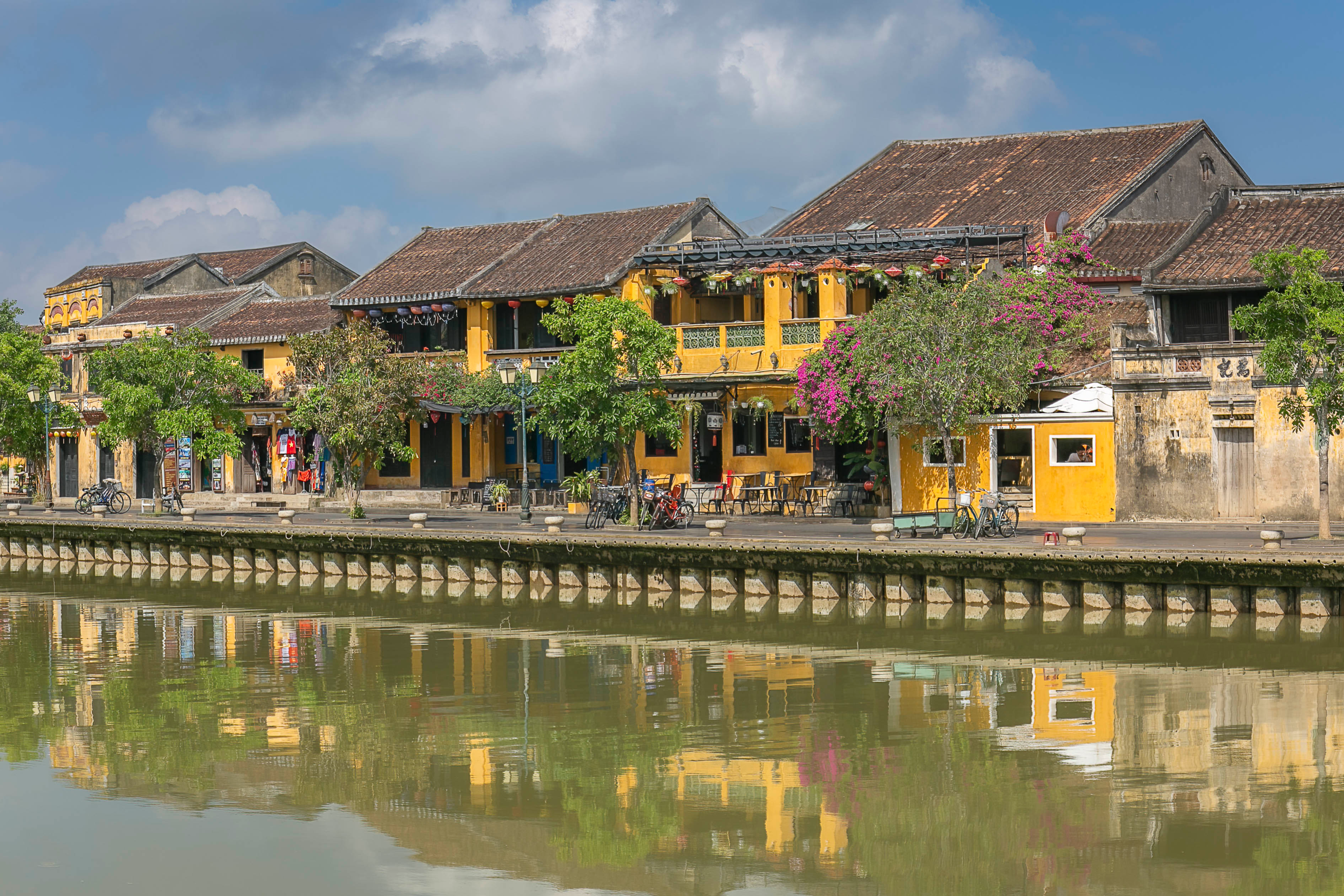 Hoi An Old Town Streets and Architecture
One of the main things to do in Hoi An is explore Hoi An Old Town. Once a major trading port in central Vietnam, Hoi An Old Town has been preserved over time as a living museum, showcasing traditional Vietnamese architecture dating back to the 15th century.
Here visitors can wander through narrow streets lined with houses built in the traditional Chinese, Japanese, and of course Vietnamese style. The area is also full of shops selling handmade crafts and artifacts, as well as restaurants serving up delicious local dishes.
A particularly interesting aspect of Hoi An's history is the old French trading houses in Old Town built in the late 19th century, which remain remarkably preserved to this day.
Hoi An Old Town Activities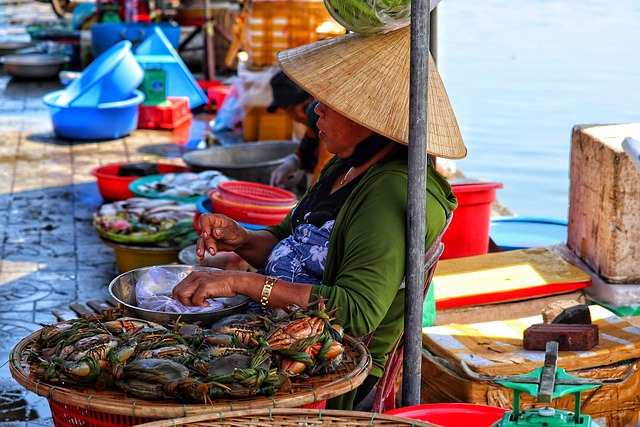 Other things to do in Hoi An include activities on the Thu Bon River, where visitors can take a boat ride or go fishing; visiting Chinese Assembly Halls, Old Houses and Museums; and there's a vast Central Market with a variety of goods for sale to check out.
There are also stacks of Western and Vietnamese restaurants and bars and wherever you are coffee houses are just a short walk away.
Chinese Assembly Halls in Hoi An Old Town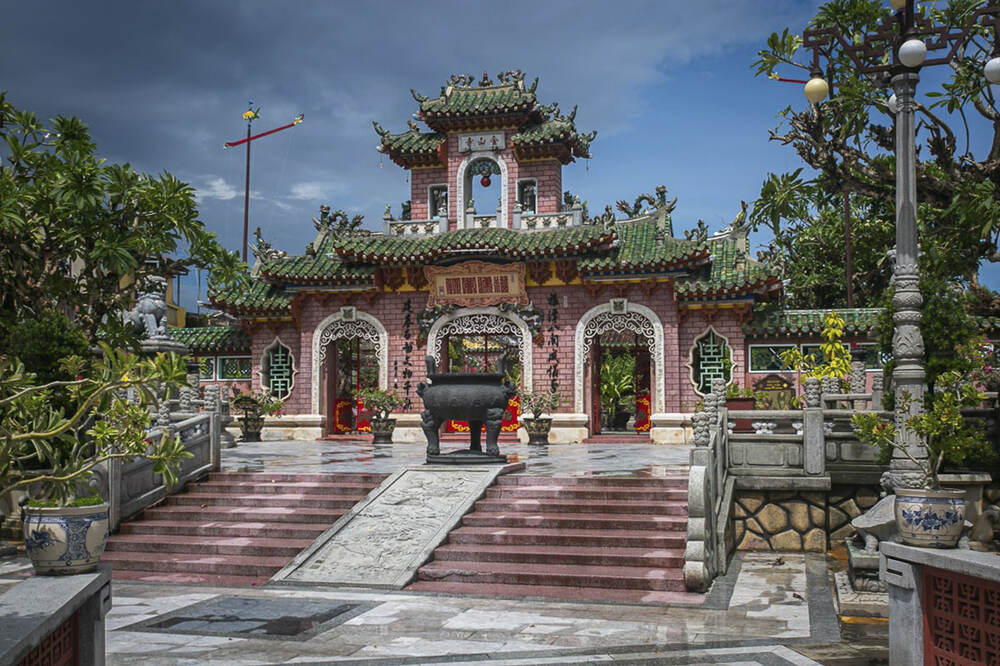 The Chinese Assembly Halls in Hoi An are some of the most popular and iconic attractions in the city.
Located within the Old Town, the first of these Chinese Guilds was established by Chinese merchants during the 16th century to become a place of social gathering and business transactions.
Chinese migrants who came to Hoi An over time also built these assembly halls in order to worship their gods, celebrate their culture and meet up.
Hoi An Night Market
Finally, if you are looking for an unforgettable and very affordable evening out, Hoi An Night Market provides good value. Located across the Lantern Bridge from Hoi An Ancient Town, Hoi An Night Market offers a mix of local food stalls, souvenir shops and live performances that make for an entertaining evening.
Whether you are looking to sample Hoi An's signature dishes or to pick up some unique handicrafts, the Hoi An Night Market has something for everyone!
Coffee Shops in Hoi An Old Town
Hoi An's old city streets and lanes and nearby thoroughfares are liberally sprinkled with cafes of many types. These are great pit stops for those exploring Hoi An on foot. You can opt for coffee shops that have the full Western range or mix it with locals at street stalls and other 'red chair' settings.
Many prefer coffee with ice as the weather is usually hot and steamy. See Vietnamese Cafes for a guide to the best Vietnamese cafes and Best Coffee Shops in Hoi An for a survey of the best coffee shops (with Western options).
Read More on things to do in Hoi An Old Town: Hoi An Ancient Town
Hoi An Beaches
If you're in the mood for a bit of relaxation, Hoi An, Vietnam has plenty of pristine beaches beckoning as a perfect respite to its hot, humid days outside of the wet season.
Physically, all of Hoi An's beaches are part of a continuous beach coastline that stretches all the way to Da Nang, but while they all offer superb views of the ocean and the Cham Islands, there are differences in each locale to consider.
Development has seen some of the beaches of the past disappear, especially south of Cua Dai Beach, but the tide may be turning with 'Cua Dai Central' making a comeback in recent times.
Cua Dai Beach
Visiting Cua Dai Beach was one of the most popular things to do in Hoi An in the past with its clear waters and white sand. In recent years erosion at Cua Dai saw it devastated but corrective measures are starting to see it regain some of its former glory. Its seafood restaurants are making a comeback too.
And south of 'Cua Dai Central' are some sandy coves that you'll have just about all to yourself if you're looking for to get away from it all. Try just south Victoria Resort & Spa and just north of Sunrise Resort & Spa.
An Bang Beach
By day An Bang Beach is ideal for swimming or just lounging around while taking in the beautiful scenery. There's a fine array of seaside bar-restaurants, many of them specializing in seafood.
An Bang's nightlife scene is starting to recover after Covid-19 too with Live music and special events also making a comeback. Check out both the seaside venues and a string of bars and restaurants along Nguyen Phan Vinh Street.
Tan Thanh Beach
Tan Thanh Beach is an idyllic spot for those who like to bathe or unwind, away from the crowds. Cool cafes like Sound of Silence and bar/restaurants like Barefoot Beach Club and Eight Days a Week service the area well.
The Cham Islands
While the Cham Islands have outstanding beaches their real claim to fame is the reefs that provide some of the best diving and snorkeling going. You can take a tour or make your own way there. Diving is at its best March to July but tours operate March to October. Most tourists take a day-trip tour but consider staying over if you have the time. For more see Cham Islands.
All Hoi An's beaches offer breathtaking views of the ocean with the Cham Islands on the horizon.
Read More: Hoi An Beaches
Tailors in Hoi An
Hoi An is known as the tailoring capital of Vietnam, with tailors scattered throughout the city. The tailors in Hoi An offer a wide range of custom-made garments to fit any size and style. Many of these tailors are skilled craftsmen who have been working in this trade for generations, making them some of the best tailors in the country. Turnover is quick and the price is right.
Visiting tailors has become one of the most popular things to do in Hoi An but it pays to do some research before you dive in.
Read More: Hoi An Tailors
Leather Goods in Hoi An
Hoi An is famous for its leather stores and looking for leather goods bargains has become one of the most popular things to do in Hoi An: a pair of leather shoes crafted virtually overnight in Hoi An Ancient Town is a fraction of the cost in Western countries and will last for many years. You can also have your dream bag and other high quality leather goods made in Hoi An in record time.
But how to choose? Where to go? If you want to get the best quality, and a comprehensive insight into Hoi An's leather industry, all you need can be found at Leather Shops in Hoi An.
Massage in Hoi An
Hoi An is home to countless massage parlors, where visitors can get a massage or book longer sessions with massage therapists. Many massage parlors offer both traditional and modern massage techniques such as Shiatsu, reflexology and Thai massage.
Prices are competitive and the quality is generally excellent. It's a great way to relax after a long day exploring the city.
Read More: Massage in Hoi An
Markets in Hoi An
In Hoi An there is likely to be a local market near your hotel. But no one should miss the Central Market which is a one-stop shop for countless items – it's an assault on the senses and never dull!
At the Central Market you can buy fresh fruit, vegetables and other local produce, kids toys, shoes, clothes, bags, jewelry, luggage, fabric, local dishes, tailored clothes and much more. It's also a great spot to pick up street food, especially in the food court which has a wide array of food stalls inside.
Local markets away from Old Town include the popular Tiger Market, Be Le Market, the Fish Market and the Night Market on An Hoi Islet. See Hoi An Markets for full details.
Tours in Hoi An
Hoi An Old Town
Hoi An, Vietnam is full of wonderful tours and activities for travelers to explore and enjoy. Visitors can explore the best sights of Hoi An Ancient Town and nearby streets on guided walking tours that take you through the Old Town and its many historical attractions, including the Japanese Covered Bridge, Quan Cong Temple, Phuoc Lam Pagoda, French colonial houses and more.
These guided tours usually start early in the morning or late in the afternoon, when the weather is cooler and there are fewer tourists around; they generally last between two and three hours
Hoi An Food Tours
For those looking to experience Hoi An's cultural heritage more deeply, there are also a number of local food tours available. Many start at a local market or even at the Central Market itself to identify all of the key ingredients in Vietnamese cuisine.
Then these culinary excursions commonly visit family-run restaurants and/or street food stalls to sample authentic dishes such as Cao Lau (a type of noodle dish), Tam Hao Cake (a sweet dessert cake), Banh Xeo (savory pancake), white rose dumplings and many others.
Not only do you get to savor delicious local delicacies, but you also get an insight into everyday local life in Hoi An from knowledgeable guides on a Hoi An food tour.
You don't need a tour of course to sample Hoi An street food. Just head to Thai Phien Street or the Central Market if you're unsure, but you'll likely bump into 'red chair' stalls all over town.
Hoi An Boat Tours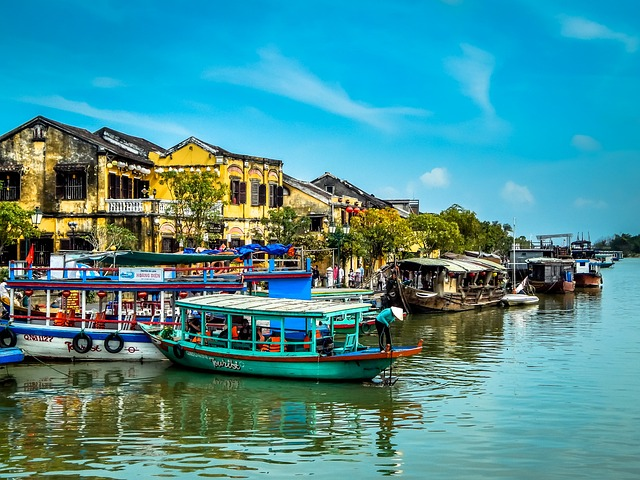 Thu Bon River
Boat rides along the Thu Bon River which offer stunning views of traditional houses along the riverbanks and the local countryside are popular in Hoi An, Vietnam. They can also take you further afield to see local fishermen at work, around the estuarine islands, and towards the broader river mouth.
Basket Boat Tours
Just before the Cua Dai Bridge, busloads of East Asian tourists enjoy a tour-group tailored basket boat ride experience which includes ghetto blasters and whirling, gyrating 'shows' of basket boat tricks. This is available to everyone.
Before these shows developed, basket boat rides were a peaceful, silent escape, gliding through the primeval, narrow nipa (coconut) palm waterways. The only sound a gentle swoosh as the boat glided by spiky nipa palms that stretch skywards from submerged trunks.
You can find the gentler option if you explore Cam Thanh's nipa palm forests a little away from 'Basket Boat Central' (ie move away from the main highway that leads to Cua Dai Bridge).
Cham Islands
To get to the Cham Islands you also need to go by boat. This is a popular one-day tour and you can make you own way or join an organized group. See entry above in 'Hoi An Beaches' and Cham Islands for how to get there (and back) and much more.
Hoi An Bicycle Tours
DIY Bicycle Tours
Most hotels offer bicycles to guests and you can make your own tour.
Hoi An Now has a number of suggestions to get your bike ride started that include as many points of interest as possible. See An Bang Beach: The Scenic Route by Bike, Cam Kim Cycle Tour, Alternative Hoi An Cycle Tour.
One advantage of a leisurely bike ride through the rice paddies and other sights by yourself is that you can modify it every which way and proceed at your own pace.
Organized Tours
Organized bicycle tours have the advantage of a built-in guide and introductions to local people and places. They also offer an opportunity to meet fellow tourists. Some tours also include a meal in a local rustic setting.
Typically organized bicycle tours follow paths across the rice paddies and link different aspects of Vietnamese life like the Tra Que Vegetable Village, fishing villages, local markets and traditional artisans.
Hoi An Art & Craft
Handicraft classes provide one of the most family-friendly things to do in Hoi An. Local handicrafts also provide wonderful keepsakes, especially when you've made them yourself!
Lantern Making
Why not try your hand at lantern making? With classes available throughout the city, you can learn all the skills and techniques needed to create stunning, one-of-a-kind lanterns.
Whether you're interested in traditional designs or something more modern, there will be a class that suits your interests and skill level. Kids are welcome.
Mask Painting
Mask painting is another accessible handicraft class in Hoi An, Vietnam. Whether you are a beginner or an experienced painter, you will walk away with a great keepsake and have tons of fun as well!
Classes typically involve learning about the different styles of mask painting and creating your own unique design using paint, brushes, and other materials.
With guidance from experienced instructors and plenty of inspiration from inspirational surroundings, you will emerge with a unique souvenir of your time in Hoi An. Suitable for all ages.
Making Non La (Conical Hats)
One of the most iconic aspects of Hoi An is its abundance of non la, or traditional Vietnamese conical hats, which are made by skilled artisans throughout the city. There are many different classes offering instruction in crafting these delightful, symbolic hats. Family-friendly.
Taboo Bamboo Workshop
Taboo Bamboo is a unique venue where bicycles and even rotary phones have been crafted entirely of bamboo. If you visit the workshop you may opt for something simpler like a bamboo lantern, but whatever you make you'll be delighted with the result. A fabulous half-day workshop.
Hoi An Cooking Classes
Whether you're an expert chef or feel dizzy whenever you set foot in your kitchen, taking on a cooking class is tremendous fun! Food is an important part of Vietnamese culture, with Hoi An having its own dishes that are unique to the area.
You'll find a great deal out about local culture and food traditions, hear some stories, meet local people, and get to eat everything you prepare. Oh, and you'll also surprise yourself with your own cooking if you take on a Hoi An cooking class!
Hoi An cooking schools offer more than just a cooking class – you can learn how to make drinks, desserts and traditional Vietnamese dishes.
Classes usually take place in a professional cooking school kitchen with the instructor showing you a range of cooking techniques, including food presentation and plating. Alternatively, join a cooking class at one of the local family homes where you will spend time talking with the locals and sharing their way of life.
At most schools, you'll find introductory classes that focus on the fundamentals of Vietnamese cuisine: learning how to make classic dishes like pho and spring rolls (nem). These courses usually involve a hands-on food preparation session where participants learn not only how to cook Vietnamese dishes but also how to assemble them into delicious meals. Some schools also offer more advanced classes which cover topics such as creating sauces and marinades, utilizing herbs and spices, or preparing vegetarian dishes
For those looking for an extra special culinary adventure, some of Hoi An's cooking schools provide unique experiences that include visits to local markets or even boat trips to nearby islands in search of fresh seafood for dinner. You might even be able to take part in a family-style feast with locals at their homes; a great opportunity to practice your Vietnamese language skills as well.
Most classes usually run for several hours due to their hands-on approach, giving you plenty of opportunity to get involved and practice your cooking skills!
Read more: Cooking Classes Hoi An
Out of Hoi An
In addition to all these things to do in Hoi An, Vietnam, visitors can book day trips outside of Hoi An (see 'Attractions in Hoi An' below).
Or they can enjoy the local countryside by a visiting nearby fishing villages like Tra Nhieu or Kim Bong Carpentry Village which is located on Cam Kim Island. On Cam Kim you can witness locals continuing long-held traditions such as fishing, rice paper making, mat weaving, carpentry and boat building.
For those looking for something a bit more adventurous, Hoi An also offers water sport activities such as ocean kayaking off the beaches or windsurfing and scuba diving and snorkeling on Cham Island.
Read More: Hoi An Tours
Half-Day and Full Day Trips from Hoi An
There are a handful of key sites that can be visited in half-day tours or full-day trips. You can seek them out yourself or grab a guided tour. Some tours may combine more than one site.
The Marble Mountains, a series of five limestone and marble outcrops located between Hoi An and Da Nang is a fabulous. There are important temples, caves, panoramic views and much more to explore.
The Marble Mountains are just a short drive away from Hoi An, making them the perfect half-day trip destination. Get there early to avoid the crowds.
The Lady Buddha is one of the top attractions in Hoi An, not only because of its unique design and history, but also because of its breathtaking views. Lady Buddha sits at the foot of Monkey Mountain adjacent to Da Nang just a 35-minute drive from Hoi An.
This majestic marble statue stands a massive 67 meters tall. Lady Buddha was carved by French priests during the 18th century, making it one of the oldest statues in Vietnam.
Monkey Mountain, Da Nang, is a stunning mountain range that offers spectacular views. From the summit, visitors can take in stunning views of Da Nang Bay and Da Nang City and the Hai Van Pass to the north.
In addition to the Lady Buddha, the mountain is home to several small temples, a French-built fortress and lookout tower, as well as a large number of wild monkeys and abundant birdlife. It is also an excellent location for outdoor activities such as trekking, hiking and bird watching.
Inland from Hoi An sits My Son Sanctuary – another UNESCO world heritage site and the most important example of Hindu architecture in Vietnam. My Son was one of the key religious sites in South East Asia, dating back to the 4th century when it developed as a spiritual center for Hinduism.
Today My Son is home to more than 70 ancient temples, some of which are over 1,500 years old. My Son Sanctuary is a must-visit for history buffs and those interested in Vietnamese culture and the Hindu Champa era that predates the current period in central and south Vietnam.
Thanh Ha Terracotta Pottery Village is an interesting offbeat destination located a few kilometers from Hoi An Ancient Town. Thanh Ha has been making terracotta pottery for over 400 years.
A visit to the Thanh Ha Terracotta Park and Museum is well worth it and in the pottery village local artisans will help you throw a pot or two.
Vietnam's famous Hai Van Pass is a stunning mountain pass that connects Da Nang and Hue. It is home to some of Vietnam's most breathtaking scenery, including white-sand beaches, lush forests, and impressive limestone cliffs. A spectacular motorbike journey but still impressive by car for the less adventurous.
As noted above, The Cham Islands offer first-class scuba diving and snorkeling if you visit in the warmer dry months before the wet season begins in September.
Although Cam Kim Island is accessed by crossing a narrow bridge that sprouts from An Hoi Islet, once there you walk back in time to expansive rice paddies and corn fields that separate the island's scattered hamlets – a world untainted by modernity.
You can see rice paper makers, mat weavers and boat building yards – traditional crafts that reach back centuries.
Kim Bong Carpentry Village is the most touristy spot with carvings of dragons and buddhas and mother-of-pearl items. But as souvenirs go these are some of the best around.
Tra Que Vegetable Village sits between Hoi An and An Bang Beach. It's a popular destination to experience authentic Vietnamese culture first-hand. You can explore local farms and greenhouses, sample scrumptious local cuisine, and learn about unique agriculture practices that are centuries-old.
Tra Que Vegetable Village is a popular pit stop on bicycle tours to and from the beach and those that explore Hoi An's countryside.
It's likely that the local greens you find on your plate in the evening anywhere in Hoi An were sourced from Tra Que Vegetable Village.
Shows, Festivals and Theme Parks
Hoi An Memories Show and Hoi An Impression Them Park is one of Hoi An's best attractions. This musical show and acrobatic performance is held near Hoi An Ancient Town and brings to life Hoi An's cultural heritage through dance, song, and stunning visuals.
It is a great way to experience Hoi An after sunset but you should get there late afternoon to explore the adjacent Hoi An Impression Theme Park's many attractions before the main show begins.
Lune Production offers a unique combination of traditional and modern Vietnamese theater performances, puppetry and acrobatics.
Hoi An Lantern Festival is held once a month on the 14th day of the lunar calendar. The festival features colorful lanterns in all shapes and sizes lining up along the old town streets, riverside markets, art galleries and more.
Locals also participate in traditional ceremonies as hundreds of lit candles float down the Thu Bon River.
The Ba Na Hills Fantasy Park recreates a medieval French village high in the mountains west of Da Nang. The park is accessed by a massive cable car and features many activities such as virtual reality games, cinemas, an arcade center, the world famous golden bridge and more!
Vinpearl Land Hoi An is an expansive complex located on one of the most picturesque beaches in Vietnam. Vinpearl Land Hoi An offers a great variety of entertainment and activities including an amusement park, golf course, water park, shopping center, restaurants and more!
Read More: Hoi An Attractions
Hoi An Nightlife
Apart from the two superb resident shows, Lune Production and Hoi An Memories Show, and many fine restaurants covering numerous cuisines Hoi An has a range of bars that are attractive to visitors. For a rundown of the best bars see Best Bars in Hoi An.
Also for current events in Hoi An see Hoi An Now's What's On Calendar.
Hoi An Dining
Arguably the food capital of Vietnam, Hoi An boasts many restaurants and punches well above its weight from fine dining to scrumptious street food. From Indian, Mediterranean, Japanese, French and more to traditional Vietnamese and Asian Fusion the range of delicious dishes across hundreds of venues is extensive.
For a complete run-down of of Vietnamese restaurants see Best Vietnamese Restaurants in Hoi An. For Western dishes and non-Vietnamese Asian offerings see Best International Restaurants in Hoi An. For those who prefer vegetarian specialists see Best Vegetarian Restaurants in Hoi An.
Kids
Kid's aren't usually too keen on being dragged around cultural and historical sights, so you'll be thankful that there are plenty of things to do in Hoi An for them. From a handful of entertainment centers to the water park at Vinpearl Land Nam Hoi An (complete with animal sanctuary) – not to mention some great child-friendly tours and attractions – there's plenty to please the whole family in Hoi An.
The best venues and activities for kids include: Vinpearl Land Nam Hoi An, Ba Na Hills Resort, cooking classes, Hoi An Lantern Festival, Lune Production, Hoi An Memories Show, Thanh Ha Terracotta Pottery Village, the Marble Mountains and the beaches. There are also craft and art activities like lantern making, mask painting and bamboo workshops.
See more at Hoi An with Kids
Frequently Asked Questions
How many days do you need in Hoi An?

The standard answer to this question is 3 days. But many who come for just 3 days wish they'd allocated more time. There's plenty to do in Hoi An but it's also a great place to unwind and take it easy. If there's room in your schedule to both take in the sights and relax, consider more than 3 days.

Is Hoi An Worth Visiting?

Well, we've devoted a large website to Hoi An so we obviously think so. Explore hoiannow.com and you'll see the myriad reasons that makes Hoi An not just special in Vietnam, but one of the must-see destinations on the planet.

Is it better to stay in Hoi An or Da Nang?

Both Hoi An and Da Nang have great beaches. Da Nang has the edge when it comes to nightlife but Hoi An on the other hand is a UNESCO heritage site that has old-world charm and a rural feel integrated right through the city and much more elbow room. We recommend staying in Hoi An as the two locations are only 30 minutes apart by car.